Events
Register now for an upcoming event where we'll meet, learn & grow! Expand your personal and professional network with San Diego's friendliest marketers and business owners.
---
January 21 | Network & SURGE into 2020
Key Trends for Marketing and Sales
Fabrice Gould, CEO of Diggen, GwenBeren,CEO of Illuminous Marketing Inc, and Chris Foster, VP New Business Development at Modern Postcard, will each take the stage and present mini Direct-Talks (Think mini TEDx) by sharing their expertise and insights on trends and opportunities in the near future. Then we will open up the floor for a Q&A.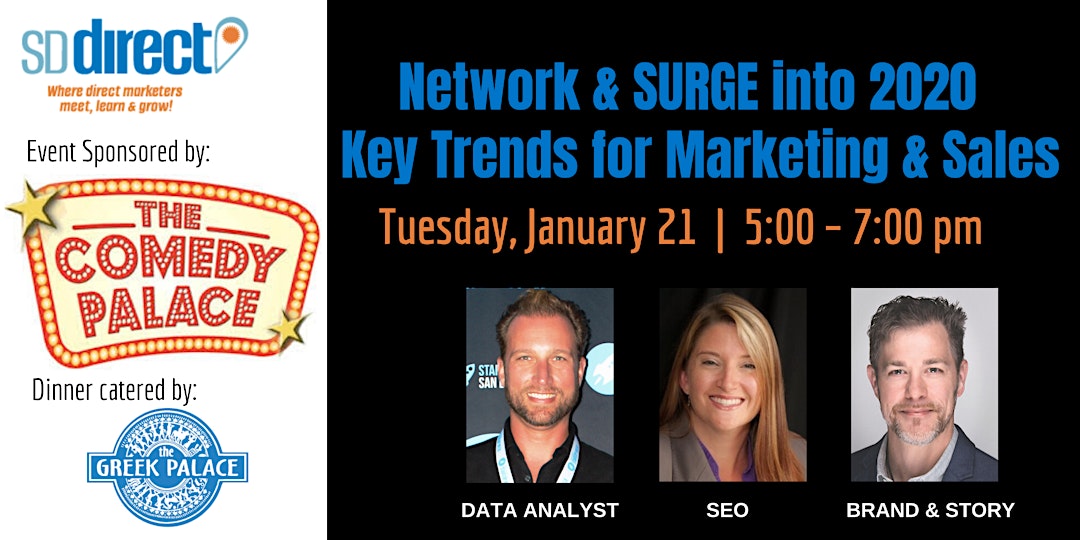 February 18 | Chrystal Lenardson
5 Easy Steps To A Winning Local Search Strategy
Local search is a crucial component of digital marketing for many local businesses. Cut through the noise by learning the top 5 techniques that work.
---
COMING SOON!! 
---
Past Events 
October 15 | Paige Novy – Social Media Strategy
November 12 | Tammy Duggard-Herd – Life Beyond Lead Gen
December 12 | Mingle Bells